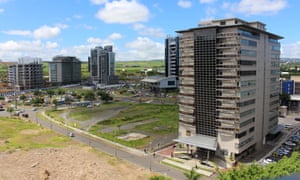 Ebène Cybercity is Mauritius's hi-tech hub, and home to Africa's internet registry platform. Photograph: Christopher Schuetze for the Guardian
As the fruit bat flies, it's only 300 metres from Cyber Tower 1 to the massive food court and commercial centre that was built to service Ebène Cybercity – the hi-tech office community on the outskirts of Mauritius's capital, Port Louis.
But walking from the ostentatious lobby of Cyber Tower 1 to the shops and restaurants can take 20 minutes – if you don't get lost along the way. The fastest route by foot bisects car parks, traverses overgrown vacant lots, and stumbles over temporary walkways past some of the biggest businesses on the island.
Both an urban planning disaster and – for many proud Mauritians – the very definition of modern office life, Cybercity was first proposed by the government in 2001 as a high-tech hub, and now houses almost 25,000 mostly educated, middle-class workers during the week. While the development can be criticised for a shocking lack cohesiveness, poor public transport, limited parking or even difficult access by foot, its creation did bring many aspects of modern connected life to Mauritian workers.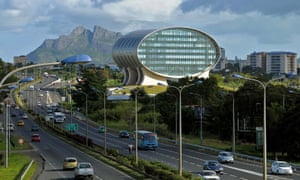 Though not officially part of Cybercity, the headquarters of the Mauritian Commercial Bank took its inspiration from the planned community
"In Europe when we talk about smart cities, we think of revitalisation of existing cities," says Bertrand Moingeon, a professor at HEC in Paris who studies urban development in Mauritius. "But in many places in Africa, including Mauritius, so-called smart city developments actually do the opposite: they create exclusive urban cities far away from the dust, chaos and inequality of the existing cityscape," Moingeon explains. "It goes against social inclusiveness."Rashiq Fataar, an urbanist based in South Africa, agrees that many smart-city projects on the continent are based on the desire to start with a fresh slate. "The whole goal is to plan from scratch. Especially for the private sector, it's all about planning and controlling."
read more: https://www.theguardian.com/cities/2016/may/23/story-cities-48-ebene-cybercity-mauritius-vision-africa-smart-future